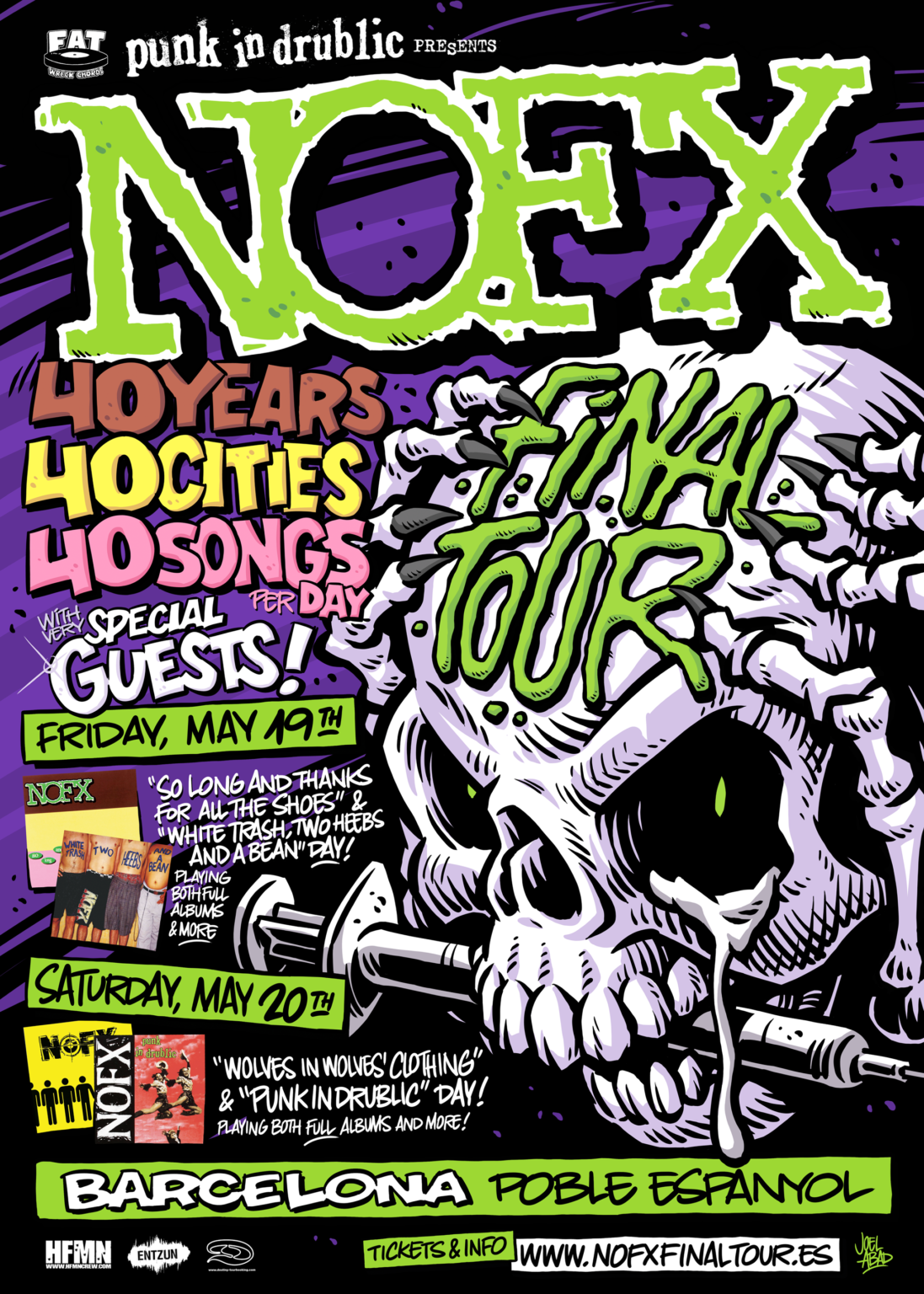 It has just been confirmed that the farewell tour of the Americans NOFX will pass through Spain next spring with two dates that will take place on May 19 and 20, 2023 at Poble Espanyol in Barcelona.
It is a reality: NOFX say goodbye to his public after 40 years of career. In May 2023, NOFX will kick off their farewell world tour in Barcelona with two concerts. Not only that: it will be the only city in the world where they will perform two nights in a row.
Two unique dates on the peninsula that will serve as a final farewell to one of the most important bands in the history of punk rock. Band that over the decades has garnered hundreds of thousands of followers in Spain and Portugal. A very important name to understand the underground in the last four decades. All this will happen exclusively throughout the peninsula in Barcelona. The capital of Catalonia has been the city chosen to kick off his farewell tour.
In addition, of these two concerts, Fat Mike and his, will only visit, in 2023, five other cities throughout Europe. At these concerts, the Californians will review four of their most anthological albums as well as a large number of great hits from their successful career. Two nights at Poble Espanyol in Barcelona. Two totally different repertoires. A total of forty songs every night.
Friday May 19 – "So long and thanks for all the shoes" + "White Trash two heads and a bean" + Greatest Hits. / SOLD OUT
Saturday May 20 – "Punk In Drublic" + "Wolves in Wolves' Clothing" + Greatest Hits. / SOLD OUT
ADDED: Sunday May 21 – "Pump Up the Valuum" + "The Decline" + Greatest Hits / ticket from 28th of March
NOFX want to go big and this will be their big farewell on the peninsula. A unique opportunity that you should not miss because the NOFX race is over.
What's more, all this in an already classic place for great punk rock nights in the city: Poble Espanyol. Tickets will be available for each day as well as a limited amount of passes for those who want to access the 2 days.